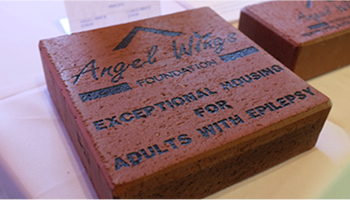 Living with epilepsy can be extremely difficult. Many of those living with seizure disorders are isolated and in spite of their challenges, they want to do things other adults do, including living independently. These adults typically live with parents who worry about who will care for their children when they pass on. Angel Wings Foundation's goal is to create a new housing model. We will build and create homes, warm and loving homes with supports in place, where like abled people with epilepsy can be happy, safe and independent. A home where family members can rest assured knowing that their family member is cared for – well beyond their passing. The Angel Wings homes will provide an exceptional quality of life for its residents.
There is an urgent need for the development of sustainable housing and individualized supports in advancing more person-centered options. Angel Wings strives to address the growing national need for affordable housing and meaningful work for individuals with epilepsy by implementing an Intentional Community Model.
Intentional Communities are a sustainable housing option in a time of great need that fosters independent, integrated relationships and believe that supports and life opportunities for individuals with disabilities should be person-centered and based on their individually defined preferred settings, support needs, and meaningful life goals; type and quality of support services should be based on the feedback, culture, and personal preferences of the individuals being supported, and their families and caregivers, rather than specific physical characteristics of a setting. The development of home, community, and work opportunities should be driven by the individuals who are and will be receiving support services in those settings; public funding that provides an essential safety net for persons with disabilities to live, work, and enjoy their lives to the fullest should be based on the needs and goals of the individual as documented in a person-centered plan and self-directed by that individual with the support of family, friends and caregivers.
69% of adult individuals with disabilities live at home as dependents. Approximately 36% of parents of adults with disabilities report their other children are planning to take care of their sibling with a disability when they die. Another 31% don't know if their other children will step into that caregiver role. An incredible 62% of parents state they do not have a life care plan for their adult child with a disability. Safe, supportive housing is needed.
Angel Wings Foundation residents can expect an exceptional quality of life. The residents can expect that their new home will be just that-their own home, shared in community with other residents.
Services Include
Support care for various levels of need
Life skills development and training
Case management services
Therapeutic services
Individualized person centered programming to promote independence
Opportunities for supported employment
Opportunities for individuals to be involved in their communities
Transportation
Evening and weekend outings
Opportunities for education-music, art, yoga, language, etc.