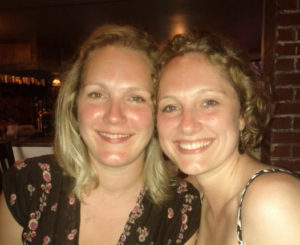 I love my sister more than words could possibly express.
She was the one I wanted to be like when I grew up.  As a child (and as an adult) I looked at her and saw intelligence, beauty, humor, patience, compassion and love but most of all no matter what I did (and I was a little beast at times) she was never mean to me; ultimately, she had every right to be since I would go rifling through her personal diaries, throw cold water at her when she was in the shower and was generally the annoying younger sister.  However, the extra unexpected element in all our lives was my epilepsy.
I've had many years to ruminate over just how admirably my sister dealt with my epilepsy.  I have spent time battling guilt knowing that she had to have an air of maturity that most children don't need to possess because the condition dictated that our lives at times were ruled by the seizures.  When I was regularly having tonic clonic seizures early in the morning there would be the predictable bed swap.  I'd go to my parents bed, my dad would sleep in mine as my mum would try and calm me down as I was too frightened to sleep alone.  I'd wake the entire house with my aura, which were pins and needles up my left arm followed by a piercing shriek.  My sister had every right to be frustrated or cross but she never was.
I started school and was fortunate enough not to be treated negatively because of my epilepsy despite certain things I had to do such as wear a hat in the summer as heat became a trigger.  I was different from other children but I never felt different, perhaps I just never noticed but that was certainly to my benefit.  However, at that age unbeknown to me, there was a guardian angel in human form looking out for me.  There she was in school keeping an eye out making sure I was okay.  She was ready to approach a teacher if necessary, to be with me if she saw any of the seizure warning signs or she noticed signs of the stigma attached to the condition manifesting itself through behaviors of other children.
Life was lived as normal as it possibly could be; however, there was no dispute that there were occasions when my mum's time was and had to be dedicated to me and my epilepsy, whether it be hospital trips, alternative therapy sessions or general seizure care.
It can't be easy trying to explain to a young child why their mother has to dedicate such time to the other, but somehow in our family it was a blessing that my sister was so understanding and patient with me and the condition.
With that in mind I wanted to focus on the idea that epilepsy and the family network, particularly siblings, need just as much support as those with epilepsy.  Not being a parent I don't have a comparison, but imagining that having two children is very hard work, juggling a child with epilepsy plus trying to ensure the other feels loved and that they get the quality time they need must be exceedingly challenging.
It can be unintentionally easy for siblings to slip through the cracks with the focus being on a child with epilepsy.  I hope that instead of fueling the fire of frustration and stigma, parents and families are able to seek and find the appropriate support they need out there and subsequently siblings, like mine, can become the inadvertent guardian angels through the love they have.
Dedicated to Jael:
"No matter what, they always had each other. How did people get through life without sisters?"
– Michelle Madow, Diamonds Are Forever
Freya is the founder of Finding Freedom with Epilepsy. She loves writing, fundraising and advocating for epilepsy in order to change the negative attitudes that remain prevalent. She is using her own daily experiences to demonstrate how the thread of epilepsy weaves in and out of life and how she has found freedom despite suffering with the condition. She has a firm belief that the root of these attitudes are fear. Fear is felt when we are faced with the unknown; therefore, education is the key and then fear dissipates along with the stigma shortly after. Freya has worked with the Cameroon Epilepsy Foundation writing and editing for fundraising campaigns. She has written a variety of articles contributing to various websites and she has undertaken her own personal campaigns fundraising locally.  Check out Freya's Blog here.